Win John Muir Way prizes in our treasure hunt
08 Jul 2021
To celebrate the launch of our new Day Trip routes, we're giving you the chance to take home John Muir Way branded goodies when you're out on the trail.
We've stashed a treasure trove of merchandise including mugs, caps, water bottles and limited edition badges at various attractions, cafes and other businesses along the route.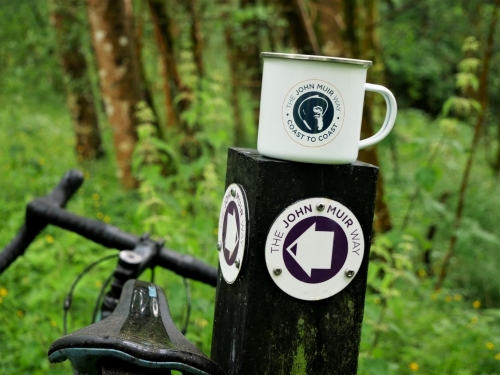 Taking part is easy. All you have to do is:
Take a photo of yourself next to a John Muir Way signpost or waymarker while you're out doing any day trip or coast-to-coast route section.
Visit one of the participating treasure locations and present your photo to show that you're a John Muir Way treasure hunter.
If you're one of the first 10 to visit that location, you win a prize.
Treasure locations can be found by browsing the listings on the Plan Your Trip page. If they are showing a ? icon in their list of facilities, it means there's treasure to be claimed there. You can search for different types of business using the filters or follow this link to a filtered list of all treasure locations.
If you're lucky enough to find some treasure, we'd love to know about it - share photos from your trip and show off your winnings using #JohnMuirWay and #JMWTreasure.
Good luck!