This is a long distance route with a difference!
The John Muir Way is designed for everyone to use, passing through countryside, coastal towns, cities and villages. It offers a window on Scotland's ancient landscape, its industrial heritage and present day urban life. It is well-serviced by both bus and train. If you want to take in shorter loops and day trips or complete the route in sections this is possible too.
The John Muir Way is 134 miles or 215Km long over easy to moderate terrain and can be completed end-to-end on foot, taking 9-11 days and by bike over 4-5 days. Some sections are also suitable for horseriding.
Most people prefer the prevailing winds behind them, so the map and guidebook describe the route from west to east.
Visit the individual pages on Walking, Cycling, Horseriding and Accessibility for more detailed advice.
Please enjoy Scotland's outdoors responsibly and check the Scottish Outdoor Access Code before you visit.
Following the waymarkers
The route is signed for walkers and cyclists in both directions but we strongly recommend that you also carry a map. Visit our Route Maps page for different options.
Be aware that signs can go missing or be vandalised, so it's best to have a good understanding of where you are heading before you set out.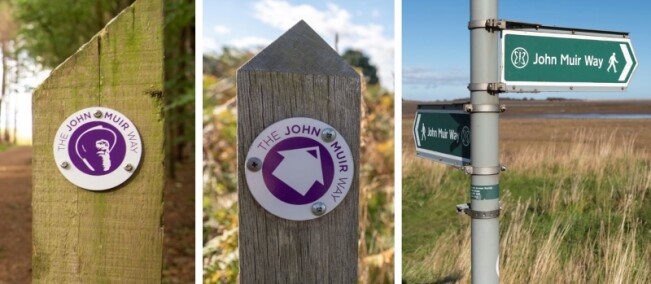 The images above show the waymarkers you'll find along the route, with the round purple signs indicating that you're on the route or (if there's an arrow) need to turn. The older green John Muir Way signs also point the way at places in East Lothian.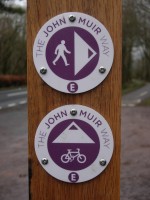 At places where the route splits for walkers and cyclists, differentiated signs are used. A waymarker with a walker and an E will show the direction for a walker heading east. Similarly, a waymarker with a bicycle and an E will be for a cyclist heading east. Once past the walker/cyclist junction, the waymarking reverts to the standard John Muir face or directional arrow.
In other places the JMW logo is incorporated into other signs such as the blue National Cycle Network sign. These can be a bit harder to spot especially if you are travelling at speed on a bike, so keep your eyes peeled!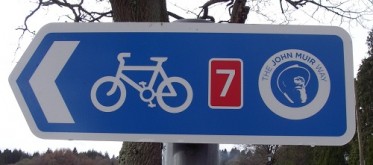 Missing signs
If you think a sign is missing, or has been interfered with we'd love to know - a quick email might save someone a long journey in the wrong direction!