Overview
Distance:
6.5 miles,
10.4 km
Average time to complete:
2.5 hours
Route type:
Walking
Total elevation:
208 metres
Difficulty:
Medium
Description
Step back in time to the Roman occupation on this trek over two of the Antonine Wall's former hill forts.
Starting at Auchinstarry Marina on the Forth & Clyde Canal, you'll have a good flat warm-up before climbing to Bar Hill Roman Fort.
Explore the remains of the Roman Empire's north western frontier, now a UNESCO World Heritage Site. The history is also a good distraction from all the climbing but you will be rewarded with great views of the Campsies and the Kelvin Valley from the peaks of Bar Hill and Croy Hill.
A short but steep descent returns you to the Forth & Clyde Canal and back to Auchinstarry. This route is fully waymarked as the John Muir Way, following the cycle route along the canal and the walking route over the Antonine Wall.
Terrain
This route follows canal towpath and footpaths, including a section of the Antonine Wall. We have graded it as medium difficulty despite the short distance, due to the grassy climbs up Bar Hill and Croy Hill. The route crosses the B802 in two places so take care at these points. Other than the road crossings and a short stretch up Twechar Main St, the route is almost entirely on footpaths or shared cycle path (along the canal).
Getting There
BY RAIL: the route can be accessed from Croy train station, 1km from the trail.
BY BUS: the 88C bus service links Kilsyth, Kirkintilloch and Lennoxtown; the 35 service runs between Falkirk and Kilsyth/Croy.
BY CAR: parking is available at Auchinstarry Marina.
Facilities
This route visits just two of the many sites you can visit along the Antonine Wall. The John Muir Way intersects the wall numerous times along its path, including at Rough Castle, Kinneil Estate and Callendar Park. Visit antoninewall.org to find out more.
For a full listing of businesses and attractions on this route, view it on the Plan Your Trip page.
Points of interest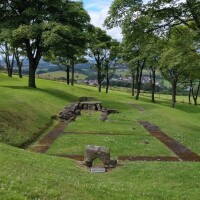 Bar Hill
The highest fort on the Antonine Wall, containing the foundations of the headquarters building and bath-house.
Visit Website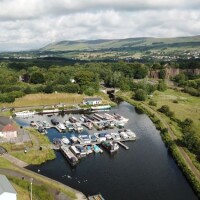 Auchinstarry Marina
This little haven of canalboat life also has a hotel/restaurant and bike or canoe hire for exploring the canal. The nearby quarry is also popular with rock climbers.
55.966605, -4.050727
https://johnmuirway.org/assets/routes/DayTrips/00ec812c7e/6-Auchinstarry-Antonine-Wall-Loop.txt