Dunbar - North Berwick Loop
Overview
Distance:
27 miles,
43.2 km
Average time to complete:
3.5 hours
Route type:
Cycling
Total elevation:
369 metres
Difficulty:
High
Description
Enjoy quiet roads and sandy footpaths on this tour of the easternmost section of the John Muir Way.
Following the waymarked cycle route from Dunbar, you'll head along the coast to Belhaven before turning north towards Whitekirk and then North Berwick.
After exploring North Berwick, pick up the waymarked walking route south out of town and along the foot of North Berwick Law. The return to Dunbar can be a challenge in places, even if you're on a mountain bike, but stick with it as the trail rewards with some amazing vistas.
After a quick stop in East Linton and a visit to the very picturesque watermill at Prestonmill, continue along the waymarked path east towards Belhaven Bay, through John Muir Country Park, and back to Dunbar.
And of course a visit to Dunbar wouldn't be complete without a trip to John Muir's Birthplace on the High St.
Terrain
This route follows the John Muir Way marked cycle route to North Berwick and the marked walking route to return. The cycle route follows cycle path and quiet roads with one short off-road track, while the walking route back is a mix of hard packed footpaths with some tricky sandy sections. You will need a bike with wide tyres, ideally a mountain or gravel bike. There are no long climbs on this route but the distance and tricky off-road sections mean we've rated it as high difficulty.
Getting There
BY RAIL: there is a rail service between Edinburgh Waverley and Dunbar. If taking bikes, be sure to book spaces in advance as they are limited.
BY BUS: there is a local service linking North Berwick and Dunbar as well as the X7 Edinburgh-Dunbar bus route.
BY CAR: in Dunbar there is some on-street parking and a car park at the swimming pool.
Facilities
If you don't have a suitable bike or tyres for the rougher sections, you can still make a return trip along the John Muir Way cycle route, or make your own way through the quiet roads in the area for variety. There are bike shops in Dunbar and North Berwick and some great food and drink stops at both ends and in East Linton.
For a full listing of businesses and attractions on this route, view it on the Plan Your Trip page.
Points of interest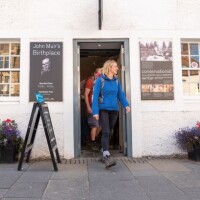 John Muir's Birthplace
Start or finish your John Muir Way adventure by exploring the life and legacy of John Muir in the house where he was born.
Visit Website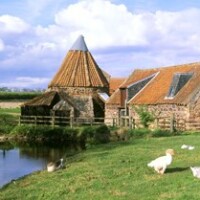 Preston Mill and Phantassie Doocot
Preston Mill, with its distinctive Dutch-style conical roof, was East Lothian's last working water mill. Nearby is the beehive-shaped Phantassie Doocot, with its French-style horseshoe parapet, built in the 16th century to house 500 pigeons.
Visit Website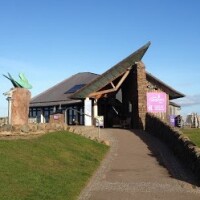 Scottish Seabird Centre
Discover the birds that make their home along East Lothian's coastline, with boat trips out to visit the Bass Rock and the world's largest colony of Northern Gannets - voted BBC Countryfile Nature Reserve of the Year. There is also a great café making this an unmissable pit-stop on your journey!
Visit Website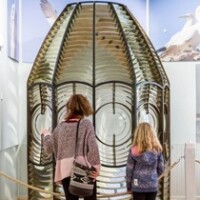 Coastal Communities Museum
John Muir spent his childhood in the seaside town of Dunbar. Learn about the customs and livelihoods of the people who would have lived beside Muir in Dunbar and other East Lothian seaside villages.
Visit Website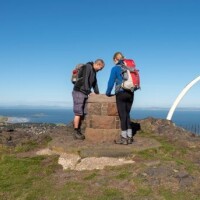 North Berwick Law
Berwick or North Berwick Law is a small local hill, 187m high and just off the John Muir Way. It gives superb views over East Lothian and the Forth.
Visit Website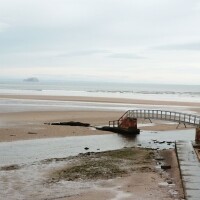 Belhaven Bay
This extensive beach is home to salt marsh and sand dune habitats as well as being a great place to paddle or learn to surf. Look out for the 'bridge to nowhere' that's cut off at high tide.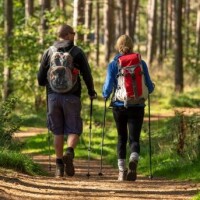 John Muir Country Park
Explore this park in John Muir's back yard, which offers several woodland and beach walks and is home to a wide variety of birds, plants, butterflies and moths.
Visit Website
56.025267, -2.657667
https://johnmuirway.org/assets/routes/DayTrips/b0a40d6288/20-Dunbar-N-Berwick-loop.txt