Overview
Distance:
8 miles,
12.8 km
Average time to complete:
3 hours
Route type:
Walking
Total elevation:
72 metres
Difficulty:
Medium
Description
This small section of the John Muir Way coast to coast boasts some of the finest views.
Leaving from John Muir's Birthplace, your first treat is the clifftop walk with its many steps and sea stacks.
You will soon arrive at Belhaven Bay, passing the 'bridge to nowhere', which is cut off at high tide. Entering John Muir Country Park reveals a whole new landscape of forest and views across the vast mudflats.
Continuing along the John Muir Way, cross the River Tyne and visit East Lothian's last working watermill at Prestonmill where there's also a distinctive dovecot.
A short walk from there takes you into picturesque East Linton, where you can rest by the fountain and treat yourself to an ice cream, lunch or coffee before taking the bus back to Dunbar. For a longer challenge, continue along the John Muir Way all the way to North Berwick or return to Dunbar on foot.
Terrain
This trip follows the waymarked John Muir Way walking route. The majority is along footpaths on a mixture of surfaces, including some loose and sandy sections. While there is not much elevation change along the path, it does include the clifftop walk leaving Dunbar, which has many steps. We have therefore graded the route medium difficulty.
Getting There
By rail: there is a rail service between Edinburgh Waverley and Dunbar.
By bus: there is a local service linking North Berwick and Dunbar as well as the X7 Edinburgh-Dunbar bus route.
By car: in Dunbar there is some on-street parking and a car park at the swimming pool.
Facilities
This trip can be tackled as a one-way walk if you take the bus back to Dunbar, or a longer return walk for those who have the energy. Set aside time to wander along the beaches on the way and explore East Linton and Dunbar's craft shops and eateries.
For a full listing of businesses and attractions on this route, view it on the Plan Your Trip page.
Points of interest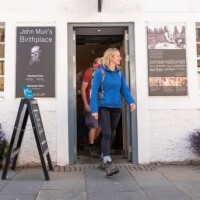 John Muir's Birthplace
Pioneering conservationist, writer, explorer, botanist, geologist and inventor. Discover the many sides to John Muir in this museum located in the house where he grew up.
View Business Page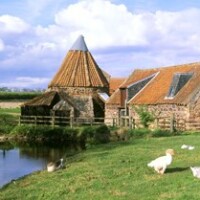 Preston Mill and Phantassie Doocot
Preston Mill, with its distinctive Dutch-style conical roof, was East Lothian's last working water mill. Nearby is the beehive-shaped Phantassie Doocot, with its French-style horseshoe parapet, built in the 16th century to house 500 pigeons.
Visit Website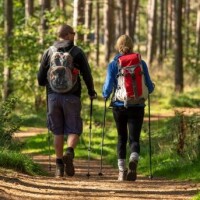 John Muir Country Park
Explore this park in John Muir's back yard, which offers several woodland and beach walks and is home to a wide variety of birds, plants, butterflies and moths.
Visit Website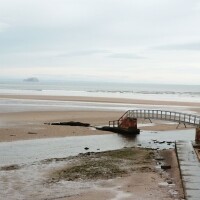 Belhaven Bay
This extensive beach is home to salt marsh and sand dune habitats as well as being a great place to paddle or learn to surf. Look out for the 'bridge to nowhere' that's cut off at high tide.
56.003022, -2.516642
https://johnmuirway.org/assets/routes/DayTrips/d743c5e994/19-Dunbar-East-Linton.txt