Helensburgh - Ben Bowie Loop
Overview
Distance:
10 miles,
16 km
Average time to complete:
4.5 hours
Route type:
Walking
Total elevation:
407 metres
Difficulty:
High
Description
This half-day walk follows the John Muir Way and Three Lochs Way to create a loop that has a bit of everything, from seaside cafes to remote hilltops.
There's not much flat though, so be prepared to work for the fantastic views over Loch Lomond and the Firth of Clyde.
Starting and finishing at the John Muir Way's western terminus, explore Helensburgh's waterfront and Colquhoun Square before ascending along quiet streets towards the famous Hill House. Follow the John Muir Way signs to head out of town along the walk/cycle path and then up the forestry climb to Gouk Hill. The optional spur to the summit is worth the scramble off the main path as the views towards Ben Lomond are spectacular.
Retrace your steps a short distance and return via the Three Lochs Way. There's an option climb the summit of Ben Bowie on an unmarked path that follows the fence/treeline. The waymarked Three Lochs Way descends all the way to the eastern end of Helensburgh and it's an easy stroll back along the coast to the centre.
Terrain
This route uses a mixture of pavements, gravel footpaths and forestry road. The optional spurs to the summits of Gouk Hill and Ben Bowie involve unmarked paths over uneven and sometimes boggy or muddy ground, however the bulk of the route follows the waymarked routes of the John Muir Way and Three Lochs Way. With 1,300ft of elevation gain in 10 miles, it's a hilly route and steep in places, requiring a good degree of fitness.
Facilities
Helensburgh has some great eateries where you can stock up or replenish those climbing calories and it's well worth building in time to look around the Hill House on route.
For a full listing of businesses and attractions on this route, view it on the Plan Your Trip page.
Points of interest
The Hill House
Managed by the National Trust for Scotland, the finest of Charles Rennie Mackintosh's domestic creations, The Hill House sits high above the Clyde, commanding fine views over the river estuary.
Visit Website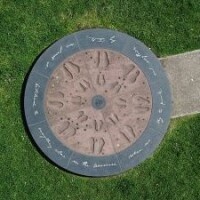 Route Start/Finish
The route starts and finishes by the engraved circular stone plinth and seat at the entrance to Helensburgh Pier at the start of the West esplanade.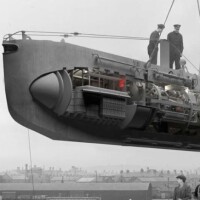 Scottish Submarine Centre
Scotland's only submarine museum has a Stickleback sub on show & audio/visual displays.
Visit Website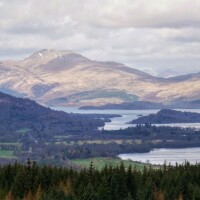 Gouk Hill
Your reward for the almost constant climb from Helensburgh is the 277m summit of Gouk Hill. Take in the fantastic views over Loch Lomond and the Trossachs.
Ben Bowie
This route's highest point is accessed from an often soggy unmarked track but it's worth the detour as it overlooks both Loch Lomond to the north and the Firth of Clyde to the south.
56.0023,-4.7340
https://johnmuirway.org/assets/routes/DayTrips/7e0c9fd6cb/1-JMW3LochsLoop.txt