Helix Around Town Trail (Hartt Route)
Overview
Distance:
16 miles,
25.6 km
Average time to complete:
2.5 hours
Route type:
Cycling
Total elevation:
251 metres
Difficulty:
Medium
Description
Beginning at The Helix Park, this circular route travels by cycleway, towpath and woodland trail, linking the Kelpies, Falkirk Wheel and Callendar Park.
The route links 16 communities around Falkirk's perimeter, and takes in many of the area's lesser known 'hidden gems' and attractions. With plenty of opportunities to pause and enjoy spectacular wildlife and history, the route is ideal for splitting into smaller sections as an alternative to a full day out.
Running mostly on traffic-free paths and tracks, the route has only one very short, lightly trafficked on-road section. However, please note there are several road crossings and some sections where shared-use paths next to busy roads are used to link the route.
Terrain
Much of the route follows canal and riverside paths, making it quite flat. However there are some steep gradients at the Wheel and Callendar Park. Surfaces vary from tarmac to rough gravel and some muddy sections, so a mountain or gravel bike with wide tyres is recommended.
Getting There
By rail: There are several train stations close to this route, including Falkirk High, Grahamston and Camelon.
By bus: Falkirk is well served by a number of bus routes including the 35 service that runs between Falkirk and Kilsyth/Croy, while the X38 links Falkirk and Linlithgow on route to Stirling or Edinburgh.
By car: there is parking at the Helix, Falkirk Wheel, Callendar House and more options in the town centre.
Facilities
This trail is known as the HArTT and is for the most part signposted. There are more places of interest than those listed here, so if exploring the area's cultural heritage is your thing, split it into sections and take your time. You'll also find plenty of cafes and eateries along the way.
Points of interest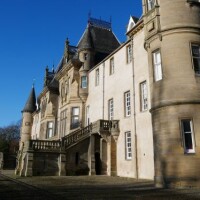 Callendar Park and House
Dating from the 14th century and set in the historic Callendar Park, the house featured in the TV series Outlander. Visit the exhibitions, Georgian kitchen and tearoom. Closed on Tuesdays.
View Business Page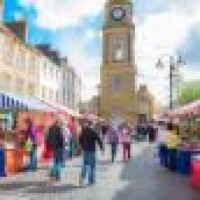 Falkirk Town Centre
There's more to Falkirk than the Kelpies and the Wheel! The town is steeped in history and boasts superb parks & gardens and a good selection of bistros & cafes.
Visit Website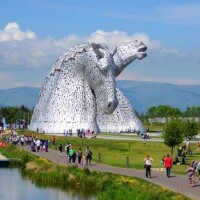 The Helix & Kelpies
The Helix has transformed almost 300 hectares, offering events, walks and new cycleways near the 30m-high landmark sculptures The Kelpies.
Visit Website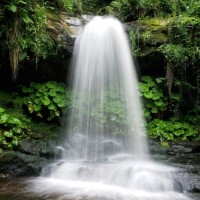 Westquarter Glen
A peaceful little haven of pathways that follow Westquarter Burn as it meanders over a picturesque waterfall on its way towards Grangemouth.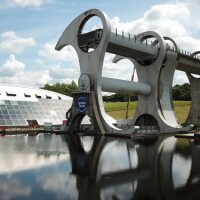 Falkirk Wheel
Joining two canals across Scotland, the Falkirk Wheel is one of Scotland's top tourist destinations and attracts visitors from all across the world.
Visit Website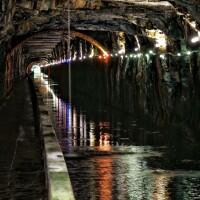 Falkirk Tunnel
Created nearly 200 years ago, the 630-metre long, 19-feet high tunnel carries the Union Canal beneath Prospect Hill on the way to its terminus at the Falkirk Wheel.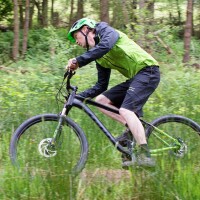 Callendar Estate Cycle Trails
At Callendar Estate there is a network of single-track mountain bike trails to complement the walking and horse-riding routes already available. There are easy family-friendly routes through attractive woodland.
Visit Website
56.019142, -3.755236
https://johnmuirway.org/assets/routes/CyclingDayTripRoutes/08c1d16dad/30-hartt_route.txt